CATALOG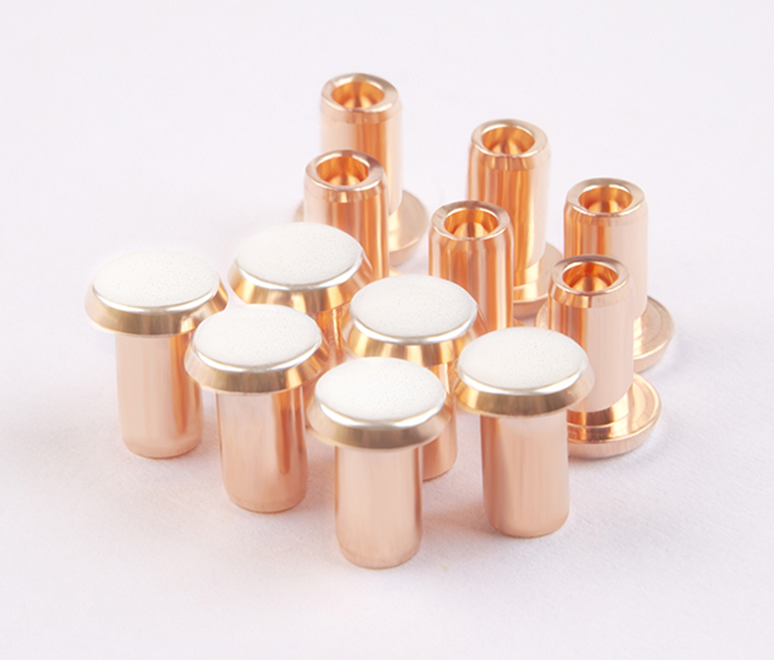 Rivet Electrical Contacts

---

APPLICATION
In automotive appliances, household appliances, relays, contactors, thermostats, timers and electronic appliances.
OVERVIEW
Rivet Electrical Contact products are manufactured by cold heading forming method. The main products are:Ag/Cu、FAg/Cu、AgNi/Cu、AgSnO2/Cu、AgSnO2In2O3/Cu、AgCu/Cu、AgZnO/Cu、AgCdO/Cu Equal double compound rivet contact;Ag/Cu/Ag、FAg/Cu/FAg、AgNi/Cu/AgNi、AgSnO2/Cu/AgSnO2、AgSnO2In2O3/Cu/ AgSnO2In2O3、AgZnO/Cu/ AgZnO、AgCdO/Cu/AgCdO and other three composite rivet contacts.
CHARACTERISTIC
①There are two types of rivet electrical contacts: head cladding and cladding at both ends. The cladding materials can be selected from silver, gold, palladium, platinum and their alloys. The substrate is generally pure copper with good plasticity and conductivity, and precious metal materials. It is only compounded at the necessary position of the electrical contact of the contact, thus effectively saving precious metals, reducing the cost of the contact, and realizing the sustainable development of the society.
②The working layer material is more flexible than the overall precious metal rivet material selection, because although the precious metal alloy material has excellent electrical contact performance, it is not suitable for making the overall rivet contact due to the poor riveting process.
③The riveted electrical contact is suitable for continuous automatic production of riveting processing. After riveting processing, no other processing technology (such as electroplating, welding, etc.) is required, which not only simplifies the manufacturing process of contact parts, improves production efficiency and reduces costs, but also The assembly precision and reliability of components are improved.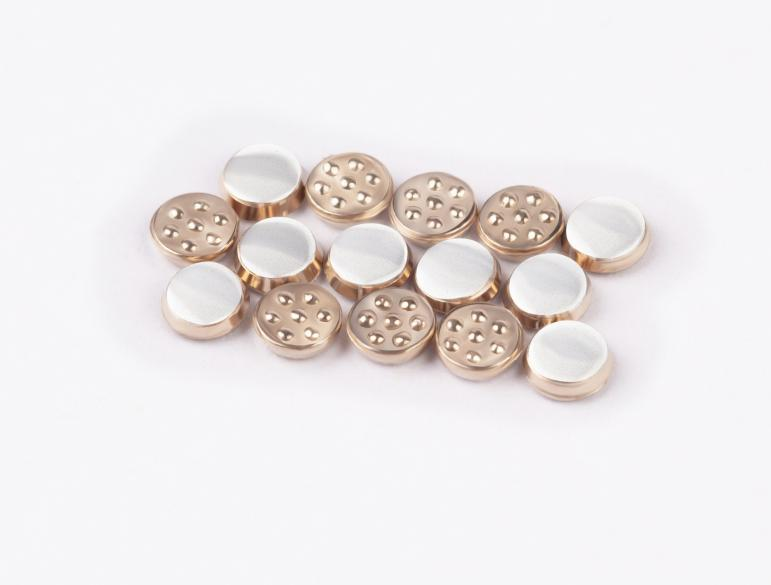 Chip Electrical Contacts

---

APPLICATION
In Relay, Micro Wwitch, Thermostat, Pushbutton, Temperature Controllers and Circuit reaker.
OVERVIEW
 The working surface materials of the three-metal composite contact are silver, fine-grained silver, silver nickel, silver tin oxide, silver tin oxide indium oxide, silver copper, silver zinc oxide, silver cadmium oxide, etc., and the welding surface materials are CuNi, Fe, etc., such as Fine grain silver/copper/iron; silver nickel/copper/iron; silver tin oxide/copper/iron, etc.
CHARACTERISTIC
①The welding surface of the three-layer composite electric contact is made of pure iron material, and has small bumps to increase the welding performance, so that the electric contact can be firmly welded with iron-based alloys such as bimetallic sheets and stainless steel sheets.
②The welding part is joined by molten metal, and its electrical stability is better than that of riveting type contacts, and the positioning is good, and the welding is beautiful. cause the error of the thermostat.
③Compared with the brazed contact, the heating time is short and the working environment is clean. It is suitable for the joining and processing of small parts, especially for the use of micro-mechanism.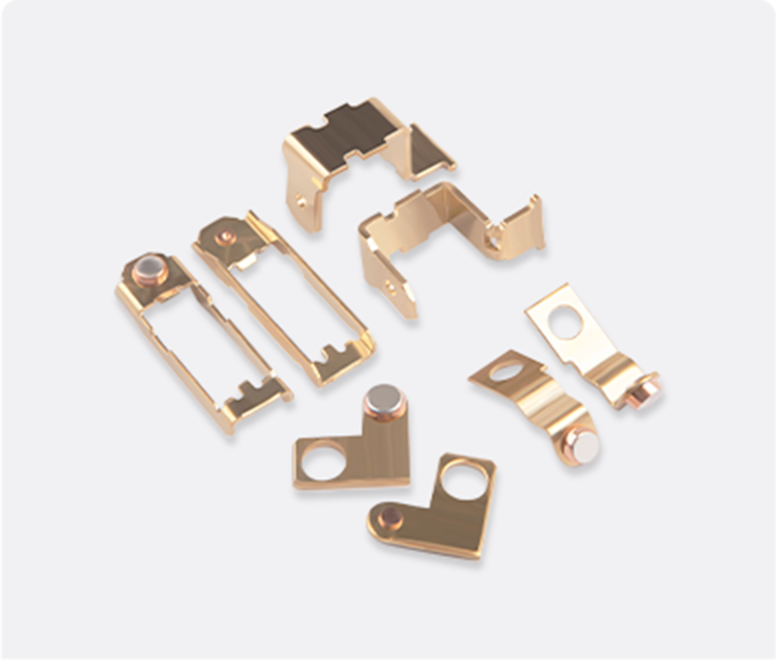 Contact Element

---

APPLICATION
Switch, Relay, Thermostat, Circuit Breaker, Contactor, Controller, Timer and other low-voltage electrical products and household electrical products.
OVERVIEW
Use AgCdO/Cu, AgNi/Cu, AgCuO/Cu, AgSnO2/Cu and other materials to form components and apply them to products through riveting, punching and welding procedures.
APPLICATION
Further optimize the process, shorten the production process, mainly reduce the contact resistance and temperature rise, and increase the electrical life by 20%.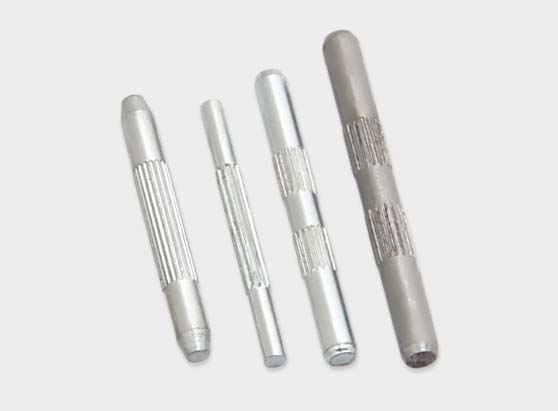 Electrical Rivets And Pins Series

---

APPLICATION
Low-voltage Electrical Appliances And Auto Parts
OVERVIEW
Our company produces rivets and pins based on copper-based and silver-based materials based on low-voltage electrical products.
SOLUTION
AC Contactors, Circuit Breakers,Relays,Fuses,Thermostats
5
6